SEPT 13, 2012 PROPHECY: DESCRIPTION OF DISASTERS IN THE WORLD AFTER THE RAPTURE, BY GOD'S SIMPLE PROPHET, BENJAMIN COUSIJNSEN… 'YOU ARE LOOKING INTO THE FUTURE', SPOKE THE MESSENGER ANGEL OF GOD.
Please share, do not change! © Bcousijnsen
Hello! On the night of September 13, 2012, an angel of the Lord visited Benjamin Cousijnsen.

Benjamin writes..
Shalom, Benjamin Cousijnsen! Wake up! Stand up! I heard the voice even in my sleep.
Benjamin, follow me.
I opened my eyes and looked at my watch… Benjamin, what are you doing? said the messenger angel of God. I said, "It's 10 past 2 (at night)!"
The angel of God said: We are sent out, prophet of God, when the God of Isaac, Jacob and Abraham commands us to go, anytime. I am the messenger angel of God, and I have come to you in the mighty name of Yeshua HaMashiach, Jesus Christ. Benjamin, follow me now…
I followed the messenger angel of God and walked out of my bedroom, through the door and along down the stairs.
The stairs creaked and I thought: 'That can't be otherwise', because the angel was certainly to 2.5 meters long' Together we walked right through the front door, and I thought for a moment: 'If only it was always like that'. The angel of God smiled and looked at me, while I thought that. He seemed to have heard my thoughts… Benjamin, my name is Janilach, said the messenger angel of God.
Benjamin, for by grace you have been saved, through faith, and that not of yourselves; it is a gift of God. As described in the holy scriptures in Ephesians 2, verse 8.
While we stood again at the intersection of the street, the messenger angel of God spoke suddenly: You're looking in the future!
The angel of the Lord made a running, sweeping motion upwards with his right hand and arm. And I saw the image of the street with houses changing…
I saw people running and heard them yelling and screaming, looking for their loved ones.
But they weren't there anymore.
A mother wept and cried loudly: "I am a christian! Why have I been left behind? Why?"
The images changed before my eyes…
Then I saw a church, where people came out…
Some were fighting and pulled each other's hair. Others were depressed. I saw the pastor come out, full of tears.
The messenger angel of God told me that it was a church, which still thought that Jesus Christ was still far from coming. Even this pastor had thought that.
The messenger angel of God said: They were yet so warned by your message!
The Lord spoke these words now directly through the angel of God. I heard: There will be so much hatred and chaos! Love and peace will be no more.
The Antichristhas taken over the Earth.

I saw a group of people eating something on the street…
This picture was zoomed in. Then I saw clearly up close… they were eating a man together!
The picture changed… I saw a sort of pointy pyramid building collapse. It was a tall building. This will occur in the United States. I saw five tall buildings collapse! And I saw people jumping out of the windows and I heard a lot of screaming.
I saw cracks occur in the streets and in the walls of the buildings, and heard a lot of screaming, before the buildings fell.
I saw a very powerful vibration, a quake, and buildings collapsed!
Then I saw debris and water, an enormous wave, a huge flood occurred! And cars were washed away. Everything seemed to happen simultaneously.
Debris, as big as a football, fell from the sky.
This I had already seen before.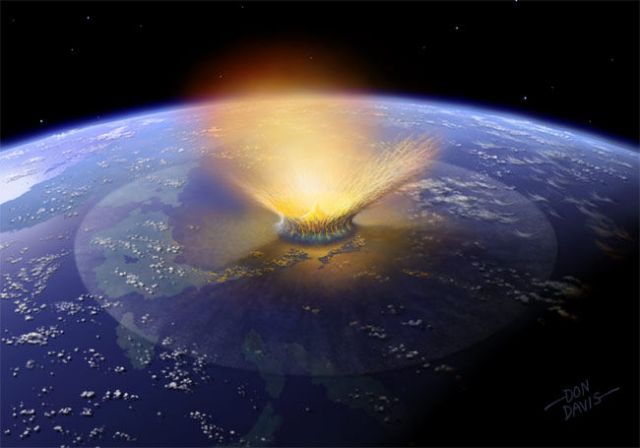 The picture changed, and I saw a plague of locusts, which had devoured the open pastures.
I also saw a mosquito plague in the sky.
Again I saw that the Moon seemed to have holes.
The Sun looked scary reddish, and I felt a tremendous heat. It was so much, what I saw!

The angel of the Lord spoke: Benjamin, you don't want to scare anyone, but for who believes Yeshua HaMashiach, the Christ, and expect Him and walk with Him: they will see Him in the Kingdom of God!

But if one rejects Yeshua HaMashiach, Jesus Christ, one rejects Jesus Christ, who loves the sinner and who wants to save!
He is speaking to you, who listens, already so long in love. Come to me, open your heart! Do not stay behind. Fear your sins, fear God and repent now, before you are left behind!
Then I saw Obama and heard the words: "Behold, the Ruler of the Earth…"

I also saw lots of crows, that ate of the bodies, where the streets were full of.

Then I saw, seen from above, on the Earth: seven volcanoes, which together formed an 8.
All these had become active, but alternated in intensity.
"What country is this?" I asked.
Benjamin, these are Costa Rica and Nicaragua.
Again the messenger angel of God made a wide sweep with his right arm and hand, and said: This is enough…
And I saw the normal street view reappear.
It is good, said the angel of God, that one repents now radically.
I call you, Netherlands, and Germany!
These countries havepolluted themselves at the desiring of what belongs to your neighbor, and have replaced the natural to the unnatural. God created man and woman, and no woman and woman in Paradise! Neither the man and the man!
Many churches have been guilty.
The scriptures are clear on this, and God asks you to repent. He did not create man like this. Yet the Lord loves you and wants to save you from hell. Study the scriptures of God. You must repent now, and surrender to Him, who wants to give you His true love, and above all wants to give you eternal life: to everyone that believes in Him, Yeshua HaMashiach, Jesus Christ.
I bring you back, Benjamin… Together we walked back to the house, right through the front door, back up the stairs. The angel of God still said at the bed:
God will send His Son soon, at the sound of the trumpets. Time is near!
I say to you: Make sure you are not left behind. Wake up! Expect Yeshua HaMashiach, the Christ. Cleanse yourself, world! Let all your sins been brought to the Cross, because otherwise, woe, woe!
Mexico, Spain, France, United States, Netherlands, Germany, England, every country, beware! Who does not want to hear, will be lost. Ruacha Je shu, Shalom! said the messenger angel of God, and disappeared.
SHALOM