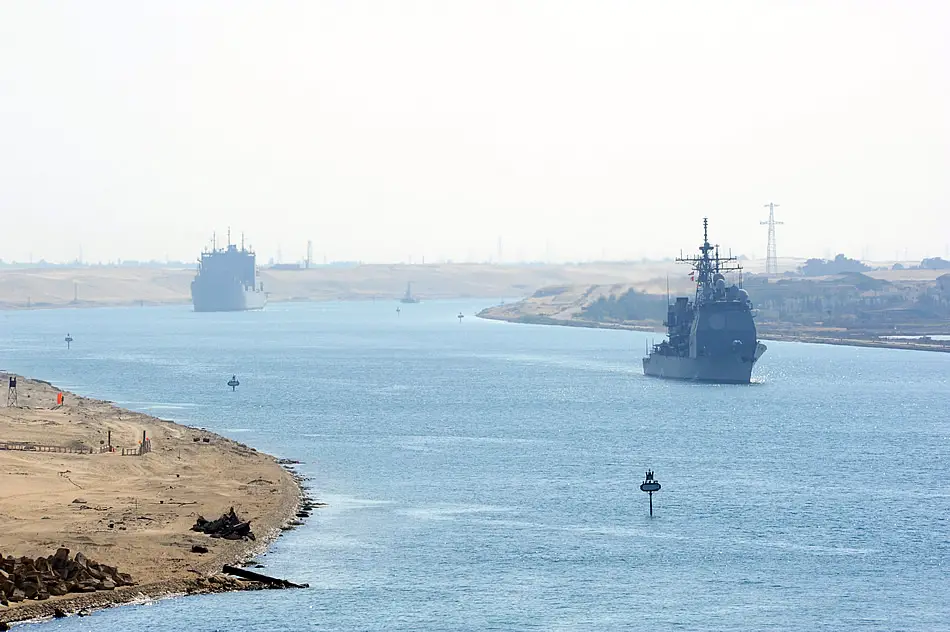 Posted 11/22/2011
MEDITERRANEAN SEA (Nov. 20, 2011) The guided-missile cruiser USS Gettysburg (CG 64) and the Military Sealift Command dry cargo and ammunition ship USNS Sacagawea (T-AKE 2) transit the Suez Canal. Gettysburg and Sacagawea are deployed as part of the George H.W. Bush Carrier Strike Group supporting maritime security operations and theater security cooperation efforts in the U.S. 6th Fleet area of responsibility. (U.S. Navy photo by Mass Communication Specialist 3rd Class Billy Ho).
Market Analysis 11/22/11:
Markets monitored developments in Egypt with intense violence entering its fourth day. Skirmishes between Egyptian security forces and civilian protestors resulted in over 30 deaths and 1,500 injuries. Many thousands continue to occupy Cairo's Tahrir Square despite assurances of a quick handover to civilian power from the country's military.
Egypt's Suez Canal is a key oil transit route with nearly two million barrels a day being shipped through it. A further one million is shipped through the Sumed pipeline, which also runs through Egypt.
Rising oil prices Feb.6 2011
Short of violence, rising oil prices may be the most obvious way to transmit contagion from Egypt, even though it isn't an important oil producer. But about 4.5 per cent of global oil supplies flow through the Suez Canal and the SUMED pipeline connecting the Red Sea with the Mediterranean, and 14 per cent of global liquefied natural gas moves through the canal.
Increase in crude oil prices would result in a decline of a per centage of annual gross domestic product and in the loss of hundreds of thousands of jobs, according to a study by IHS Global Insight. Food price inflation could be a carrier of contagion. In developing countries like Egypt, where food accounts for a major slice of average income, such inflation is becoming a major problem. Hoarding, exacerbated by civic unrest in Egypt and elsewhere, could lead to greater price spikes, an economist at HIS Global Insight said.
There is no simple answer, alas. Butterflies can cause tornadoes, but those storms can't be predicted.
— New York Times
Sensitivity to initial conditions is popularly known as the "butterfly effect".
The flapping wing represents a small change in the initial condition of the system, which causes a chain of events leading to large-scale phenomena. Had the butterfly not flapped its wings, the trajectory of the system might have been vastly different.
A consequence of sensitivity to initial conditions is that if we start with only a finite amount of information about the system (as is usually the case in practice), then beyond a certain time the system will no longer be predictable.
Mid-Point - March 21st 2013
God Bless,
gail