Back to the Security Council we go:
The United States has evidence of "crimes" in Syria and is ready to use it to step up pressure on President Bashar al-Assad, the US ambassador to the United Nations said Wednesday.
Speaking ahead of a UN Security Council meeting on Assad's deadly crackdown on opposition protests, Ambassador Susan Rice said there would be more international action against Assad who has "lost his legitimacy to rule."
A UN official is to brief the 15-member Security Council on the intensifying crackdown in Syria, one week after the council condemned the government's violence.
Western nations will use the meeting to test reaction to possible stronger UN steps against Assad, diplomats from various countries said.
Nuclear Core
Jerusalem denied reports Wednesday it accepted an invitation by the International Atomic Energy Agency to discuss a Mideast free of nuclear weapons.
"Israel and Arab nations have tentatively accepted an invitation by the UN nuclear agency to discuss a

Middle East

free of atomic arms," The Associated Press had reported earlier Wednesday.
Israeli

Prime Minister

Benjamin Netanyahu's bureau, however, denied the report.
On August 9th at 0805 UT, sunspot 1263 produced an
X7-class
solar flare--only the third X-flare of new Solar Cycle 24 and the most powerful so far. NASA's Solar Dynamics Observatory captured the explosion's extreme ultraviolet flash: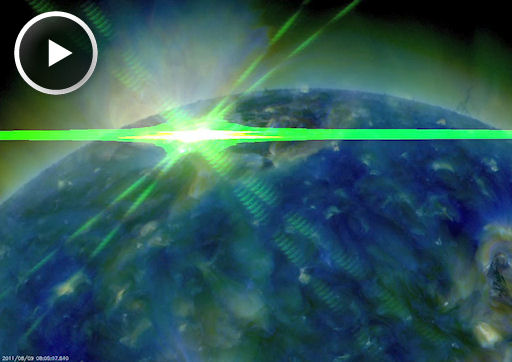 The brunt of the explosion was not Earth directed. Nevertheless, radiation from the flare created waves of ionization in Earth's upper atmosphere, briefly disrupting communications at some VLF and HF radio frequencies. The blast also accelerated a mild torrent of protons toward Earth; they can be seen speckling the images in
this SOHO movie
of a CME emerging from the blast site. The CME will probably miss Earth. At this time, however, we cannot rule out a glancing blow from the flank of the cloud on August 11th or 12th. Stay tuned for additional analysis.
'Fear Gauge' Flashes Red
The stock market's "fear gauge" jumped Monday as stocks careened lower in the first trading session since Standard & Poor's Ratings Services cut the credit rating for the U.S.
"It's outright panic." said Andrew Wilkinson, senior market analyst at Interactive Brokers in

Greenwich, Conn

. of Interactive Brokers.
Fears of a global meltdown, which some see as potentially worse than the 2008 collapse, sent vacationing G-7 leaders into a flurry of phone calls between Berlin, London, Paris and Washington to stem the (Global Debt) tide.